Last week we shared various lessons we've learned producing 3D projection events. On a related topic, this week's blog entry will dispel the most common and consistent myths of 3D projection mapping.
1. Glass is 3D Projection's Enemy
When scouting markets for architecturally unique and interesting structures, we often encounter buildings that are primarily glass. Although these buildings may appear architecturally compelling, glass surfaces do not properly reflect the light needed to achieve 3D projection clarity. This does not necessarily mean that buildings with glass windows are impossible. We have found a solution to this conundrum, such as applying white adhesive to the projection surface of that structure to properly reflect the light from the projectors.
2. Beware of the Landmark Landmines
Considering the often imposing content and scale of our 3D projections, many of our clients justifiably want the "canvas" to be equally majestic. While we agree that the building selected should be interesting and allow for seamless projection angles as well as maximized foot traffic, landmark buildings are a slippery slope. Particularly in New York, locations such as the Flatiron Building, Chrysler Building and New York Public Library enjoy interesting and detailed architectural canvases. But, because of their esteemed and hallowed status, permitting is difficult, inconsistent and lengthy.
3. Projectors Need Their Space
We create lasting impressions, not magic. Each 3D projection site needs adequate room for the projectors to be mounted and/or hung. Our commercial grade projectors are quite heavy and large, not to mention we commonly use 18 or more of them simultaneously during a 3D projection. Many visually fascinating facades cannot be used simply due to lack of space needed for a full experiential event.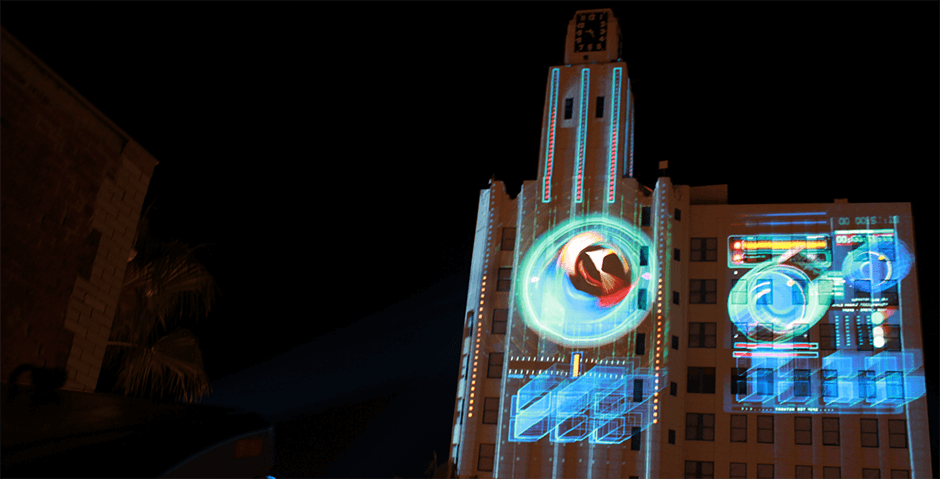 4. Highways are a Demarcation Zone
Naturally you want to optimize a vision stream for all 3D projection events, but some locations are off limits. 3D projections are legally prohibited from being visible on major highways. Due to the imposing 3D projection scale, content and visual effects, high speed driving liabilities are obvious.
5. No…We Cannot Project Onto the Moon
We've been asked if we can 3D project an internationally recognized design onto the moon. Check back with us in a few years.

For more information about 3D projection view these links below: