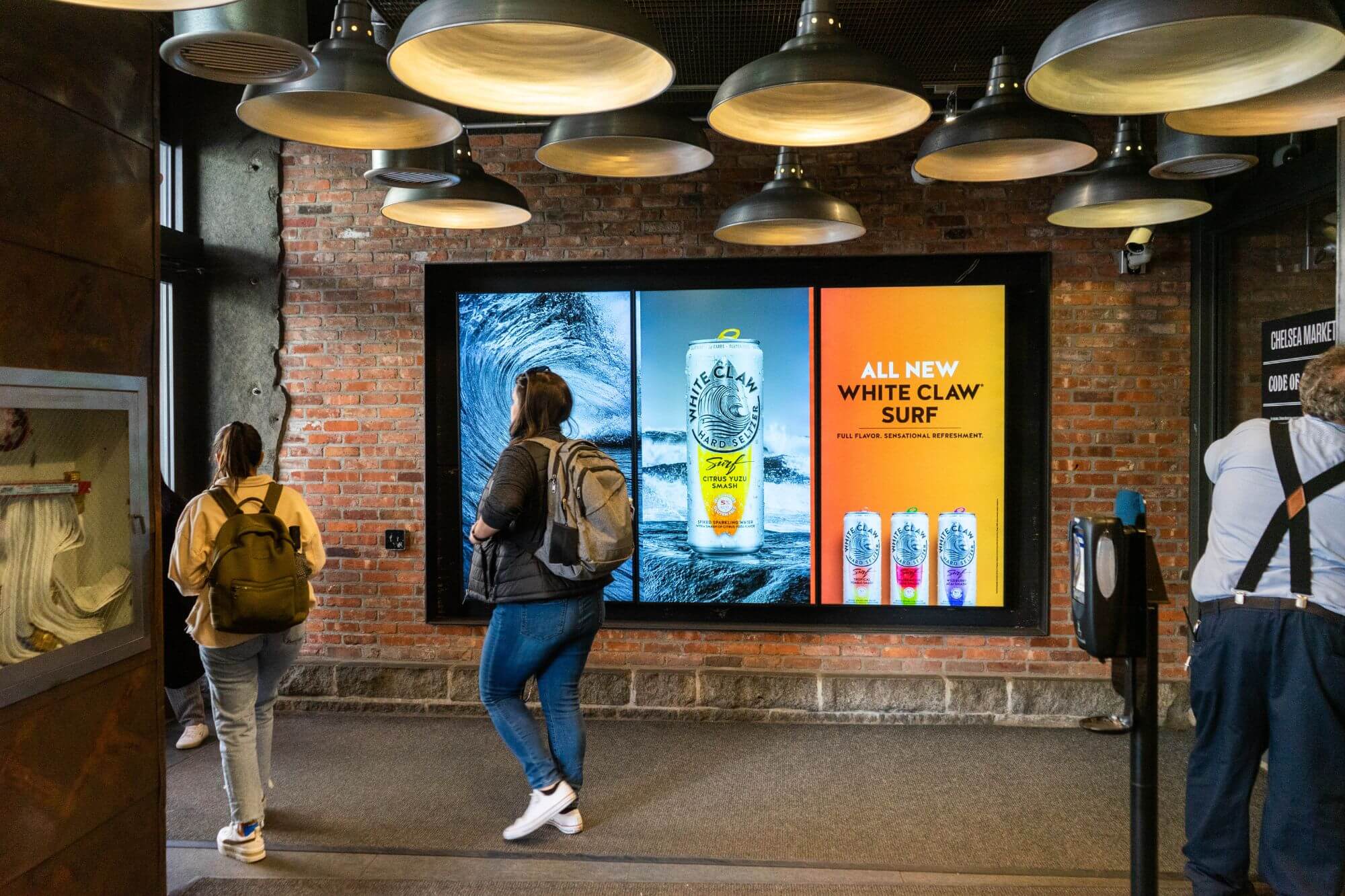 DOOH stands for "digital out of home" advertising, which means that this type of advertising method is very similar to standard OOH (out-of-home) advertising. The main difference is that digital ads use electricity to display ads on a screen while standard out-of-home ads rely on traditional print in most cases.
Digital ads can take on several forms, but the primary purpose of any form aligns with other ad types. They're designed to inform the public about a product or service that's being offered by the company behind the advertisement. 
Let's explore the various types of DOOH advertising and cover, in brief, what sets this advertising method apart from traditional OOH ads.
Types of DOOH Advertising
Digital advertising comes in several forms, but let's focus primarily on the types of DOOH ads that are used in out-of-home marketing methods.
Large Format Ads:

Large format is the most common type of digital OOH ad that comes to mind for most consumers. Digital billboards are DOOH ads that take up a great deal of space and they project ads above roadways. This way, massive numbers of people who pass by during their commute will surely notice them. Unlike traditional billboards, DOOH billboards are well-lit 24/7 and they remain clear and crisp regardless of the weather.
On-Location Ads:

These digital ads are usually posted at specific locations so that the audience in the area can see them because the ad's target audience is already in attendance. This might include movie theater ads that display while moviegoers are waiting in line, or those that play before a scheduled showing. Further, gas stations have digital on-location ads that play at the pump to let customers know about how they can save money on future gas purchases.
Checkout Ads:

Checkout ads are nothing new, but the digital version can remind shoppers to pick up several items with just a single sign. Because the ads cycle through, a digital checkout ad might remind someone waiting in line at the grocery store not to forget to buy ice, chapstick, gum, or any other commonly-forgotten grocery item.
What Does DOOH Do?
Digital out-of-home ads can serve a number of purposes, but their main goal is to advertise a product or service. Unlike displaying a traditional ad, though, a digital ad can play videos or cycle through important information about a product or service without overwhelming the consumers who view the content. 
For example, a digital ad series posted near the center of a shopping mall might play ads that mention the various sales going on in the area. Afterward, an ad that provides directions to specific stores might play so that customers are better able to locate the products they're looking for. 
Drive-thru restaurants might display a loop of different food offerings the establishment is promoting, along with information about how customers can make the most out of their purchase when buying two of one item and getting a third free.
How Does DOOH Work?
Digital advertisements work in much the same way an ordinary sign does, but these ads are displayed on a digital screen. The visualizing method is similar to the way a computer monitor displays the binary codes and pieces of information the device is reading. Like a computer, the display translates codes into text and images that are easy for viewers to understand.
Digital ads use a content management system (or CMS) to organize and display the ad content that the computing device, or media player, is attached to. The photos, videos, or text are either transmitted from the player to the display via a wired or wireless connection.
Different digital displays can post several ads at the same time through an array of connected monitors, or the display can simply cycle through ads on a single monitor. These display features depend on the unique digital setup involved.
Benefits of DOOH Ads
The right type of ad is crucial when it comes to attracting customers to a business, so let's take a moment to evaluate the benefits of DOOH ads. This way, you can determine whether the potential rewards make sense for your marketing needs.
Cost-Effective:

Digital ads may seem like they'll cost a fortune, but they provide excellent cost-effective features. For example, advertising digitally doesn't require printing fees, digital ads rarely need to be replaced due to wear, and sharing digital ad space with other brands in an advertising loop is often more affordable than paying for a dedicated billboard.
Audience Engagement:

People notice screens, and when a high-quality digital ad plays on those screens, consumers tend to remember them. Videos, audio, and crisp photos are more eye-catching than a traditional ad most of the time.
Real-World Interaction:

Viewers see digital ads in real-time and they don't have the luxury of blocking or clicking away from the ads they see in public. This means that they're more likely to notice the content of the ad rather than quickly pushing it away.
Modern Connectivity:

Digital advertising utilizes technology to enhance the success of ad campaigns. For one, the monitors are always lit so they're more likely to be noticed at all times. Additionally, by adding other technologies to the mix, motion detection can trigger ad displays so that visitors will notice them right away.
Location Flexibility:

Digital ads can be projected to various monitors at a time, so long as they're in the same network. For advertisers who want their ads to migrate to different urban locations during the day, digital ads make the desire possible.
Easy to Change:

It's easy to edit the content of a digital ad, without having to invest in more printing fees. If a sale changes or a new promotion is coming up, swapping out the old ads for new ones is a breeze.
If you'd like to learn more about digital advertising, reach out to Pearl Media. Our experienced marketing team is here to provide you with all the answers you seek, and we can assist you in developing the most well-rounded advertising approach for your business.