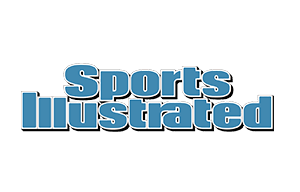 Pearl Media is always very busy with a constant flow of static executions on Streetscape and Wallscape locations. Below are a few highlights from the past couple of months. For more photos and information be sure to browse our Portfolio Page and Interactive Case Studies Page.
Virgin America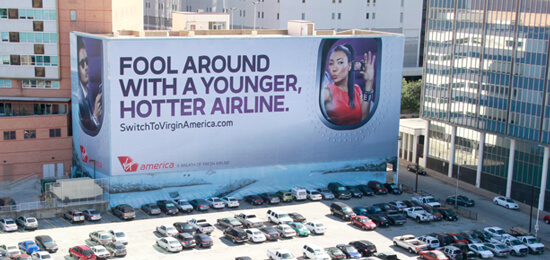 Flirting with the concept of flying with the younger, hotter Virgin America Airlines, Pearl Media created a giant Wallscape above 505 N Akkard in Dallas for the young and young-at-heart generation. It features a hip young lady on one window as well as a suave young gentleman in another window, surely provoking the idea of joining the "cool" airlines to fly with.
Disney – Real Steel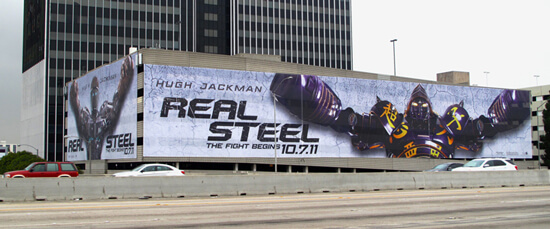 In a campaign to promote the launch of Disney's new movie, Pearl Media created a larger than life depiction of Real Steel champion robot Atom on a Wallscape taking over the LAX highway of the 405.
LOGO Network – A-List Dallas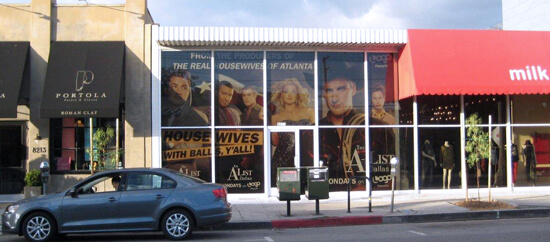 Pearl Media has also previously partnered with Logo Network to create a vinyl wrapped Streetscape in Los Angeles to promote the new A-List Dallas TV series. With a giant group photo of the cast sure to spark curiosity, it's a message that's hard to miss.
Sony Pictures – Arthur Christmas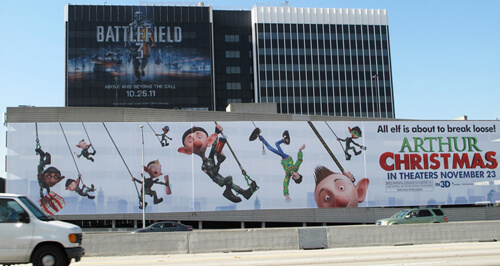 Pearl brings the north pole to Los Angeles on the 405 freeway with the promotional Wallscape display of Sony's Arthur Christmas coming to US theaters November 23.  The display features the dangling cast of Santa's high-tech staff holding on to bungee cords on their mission to save a little girl's Christmas.  The larger-than-life display brings the characters to life and is sure to catch the attention of the little car seat passengers riding with Mom.
Tiffany's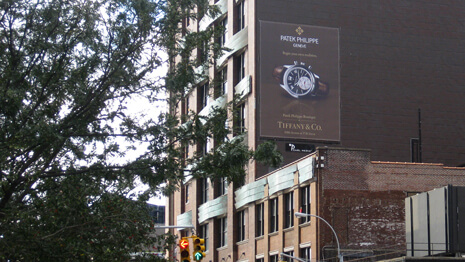 Pearl Media installed a classy Wallscape advertisement display for Tiffany's Patek Philippe watch collection sure to grab the attention of potential consumers with a taste for the finer things in life.
Egrifta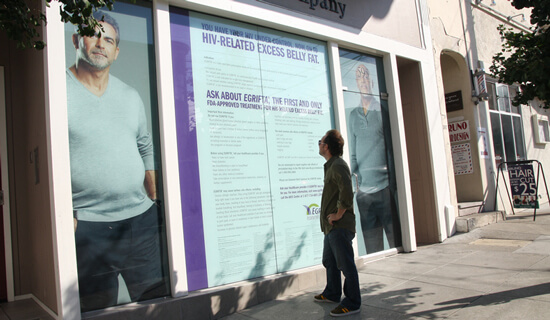 Pearl Media produced a Vinyl wrapped awareness display for Egrifta on  a storefront in San Francisco's Castro District (above) and another in New York's Chelsea (below). These street level displays reach local patients where they can relate and get the proper information they need to soon be free of their condition.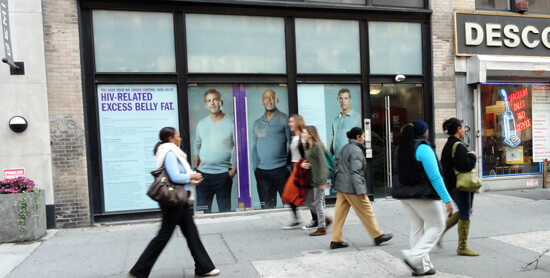 Pearl Media is always working on something bigger and better… Stay tuned for more innovative advertising executions.