Pearl Media and Creative i Use 3D Technology to Make Building Vanish in Downtown L.A.
3D Experience Visually Demonstrates That 'If A Commercial Property isn't Advertised on LoopNet.com, it Might as Well be Invisible'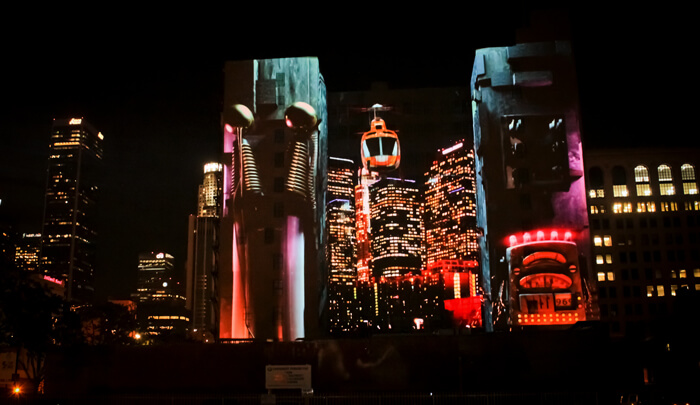 LOS ANGELES – January 18, 2013 – In a first-of-its-kind experience, Pearl Media, a non-traditional media company specializing in groundbreaking out-of-home brand experiences and Creative i, a Palo Alto-based integrated communications firm, teamed to erase a building from Los Angeles' storied skyline last night for CoStar Group's LoopNet.com, the #1 marketplace for commercial real estate online. Using state-of-the-art 3D projection technology, the companies visually demonstrated that 'if a  commercial property isn't advertised on LoopNet Premium Lister, it might as well be invisible.' Onlookers watched as the 12-story building on W. 9th Street between S. Olive and Hill Street vanished right before their eyes.
Want to see yourself? Watch the video here.
Creative i developed an integrated communications program for LoopNet built around a simple, powerful message. The program culminated in an exclusive, VIP event celebrating L.A. commercial real estate luminaries, for which Creative i turned to Pearl Media to develop the first-of-its-kind 3D projection experience. In addition to creating the 3D projection, Pearl Media handled the full event production for the evening. Grammy® Award-winning band Train also took to the stage for a special performance during the much-anticipated event.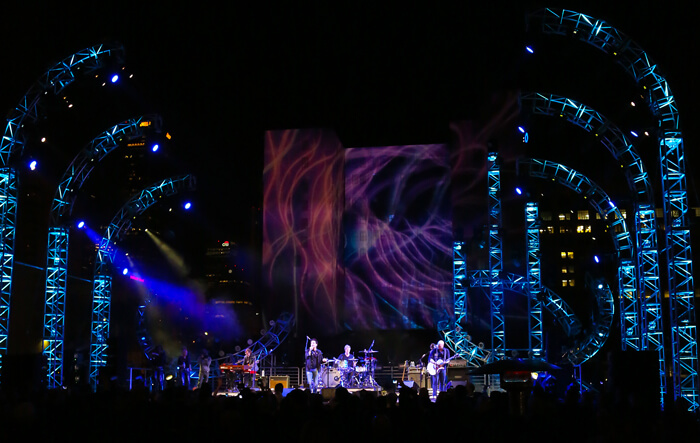 "We wanted to drive home LoopNet's message within a visual experience that's big, bold and undeniably bodacious," said Rick Mathieson, Vice President and Creative Director at Creative i. "This 3D projection delivers on that objective – big time."
"The disappearing building experience demonstrates Pearl Media's ability to push the limits of 3D projection, and simply and beautifully demonstrates LoopNet's brand promise, while creating a lasting impression with its core consumers," said Josh Cohen, President and CEO of Pearl Media. "The great benefit of 3D projection is that it works as a live experience, which can then be shared exponentially online and via social media. This program also allowed us to showcase our 360 production capabilities. We created a breakthrough 3D projection, as well as designed and produced the staging, lighting and event for this A-list act and client."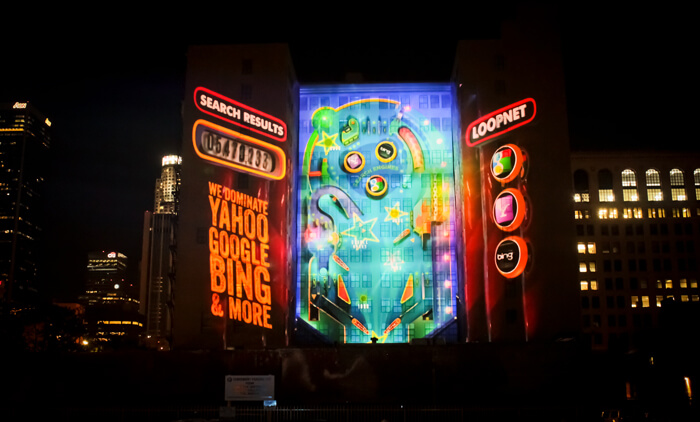 Starting today, consumers can enter to win an American Special Telecaster guitar by Fender signed by the Train at www.LoopNet.com/LATrafficJam. There, fans can earn a second entry by sharing the video of the vanishing building after they've submitted their entry.
Pearl Media, a leader in 3D architectural mapping who specializes in transforming buildings into unique, vibrant, interactive out-of-home experiences, has created large-scale projections for clients including Lexus, Chevy, THQ and Twentieth Century Fox Home Entertainment – among others. To successfully achieve the illusion, Pearl Media utilized state-of-the-art, high-powered projectors, as well as its proprietary advanced 3D mapping technology, lighting, sound, shadows and animation to precisely map the 3D projection to the contours of the building.
Founded in 1995, LoopNet.com is the most heavily trafficked commercial real estate marketplace online with more than 6.5 million registered members and nearly 3.5 million unique monthly visitors. With the addition of thousands of new members per week, the company continues to unveil new offerings in mobile solutions, email campaign management tools and more – all designed to help commercial real estate brokers, owners and others market their properties as never before possible.
About Pearl Media
Pearl Media, the U.S. leader in immersive 3D projection experiences, interactive storefronts and large format outdoor campaigns, delivers lasting impressions for major brands. Enabling consumer engagement across multiple touch points, including traditional and social media, Pearl Media extends impact for brands across categories including automotive, airlines, spirits, fashion, consumer packaged goods, retail, gaming and entertainment. Headquartered in Fairfield, NJ, with offices in Los Angeles, Chicago and Miami, Pearl Media drives brand-to-consumer relationships through innovative media creations. For all things Pearl Media, please visit: https://pearlmedia.com/ and https://www.facebook.com/PEARLMEDIAUS or follow @PearlMedia_US.
About Creative i
Creative i is a Palo Alto-based integrated communications firm that delivers high-impact, highly-immersive brand experiences that connect with your target audience on an emotional level. Led by industry veterans with a reputation for producing breakthrough results for its clients, Creative i has redefined what's possible in both traditional and digital media. For all things Creative i, please visit: https://www.creative-i.com
About CoStar Group, Inc.
CoStar Group (NASDAQ: CSGP) is commercial real estate's leading provider of information, analytics and marketing services. Founded in 1987, CoStar conducts expansive, ongoing research to produce and maintain the largest and most comprehensive database of commercial real estate information. Our suite of online services enables clients to analyze, interpret and gain unmatched insight on commercial property values, market conditions and current availabilities. Through LoopNet, the Company operates the most heavily trafficked commercial real estate marketplace online with more than 6.5 million registered members and 3.5 million unique monthly visitors. Headquartered in Washington, DC, CoStar maintains offices throughout the U.S. and in Europe including the industry's largest professional research organization. For more information, visit www.costar.com.
#  #  #
Media Contacts:
Karlyn Nelson / Samuel Threadgill
MPRM Communications for Pearl Media
knelson@mprm.com / sthreadgill@mprm.com
323.933.3399