Pearl Media's Chevy Giant Claw Game wins another Gold Award.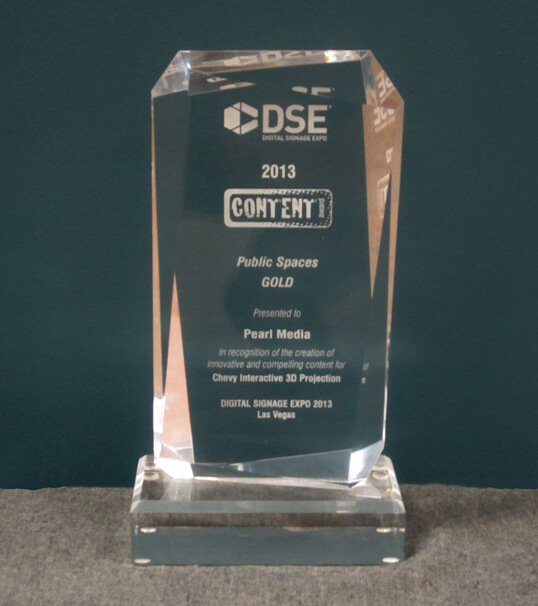 Last night at the Digital Signage Expo Awards in Las Vegas, Pearl Media took home another Gold Award in the Public Spaces category for its seminal Chevy Sonic Giant Claw Game. In partnership with Goodby, Silverstein & Partners and Starcom, the Chevy experience was the first-ever interactive 3D projection.
Using a single-minded idea and the latest 3D interactive technology, consumers were able to navigate the giant 3D projected claw using a 3 foot stick shift at street level, in front of Hollywood's storied Roosevelt Hotel – on which the game was projected. Hundreds of people took control of the device in an attempt to win prizes. One lucky winner walked away with the Grand Prize: a 2012 Chevy Sonic.
The interactive experience is now a Guinness World Record winner for the World's Largest Claw Game.
About Pearl Media:
Pearl Media, the U.S. leader in immersive 3D projection experiences, interactive storefronts and large format outdoor campaigns, delivers lasting impressions for major brands. Enabling consumer engagement across multiple touch points, including traditional and social media, Pearl Media extends impact for brands across categories including automotive, airlines, spirits, fashion, consumer packaged goods, retail, gaming and entertainment. Headquartered in Fairfield, NJ, with offices in Los Angeles, Chicago and Miami, Pearl Media drives brand-to-consumer relationships through innovative media creations. For more information, visit pearlmedia.com
About Pearl Media Productions:
Pearl Media Productions creates live, environmental experiences that emotionally connect the brand to consumers. PMP's experiences create lasting consumer impressions through social and earned media, where our content enjoys an extended life cycle. PMP works in 3D and 2D projection and surface mapping, event staging, lighting & sound, as well as special events and trade shows. For more information, visit www.pearlmediaproductions.com