Coachella 2013 "Mirage"
3D Projection Mapping by Pearl Media Productions
After spending a day listening to great music at Coachella, attendees witnessed a mid-century, Palm Springs mansion complete with a pool (yes, a pool!), dance floor and hundreds of guests. But was it real? It was actually "Mirage," the highly praised 3D projection experience created specifically for Coachella by Pearl Media Productions in collaboration with artist Paul Clemente.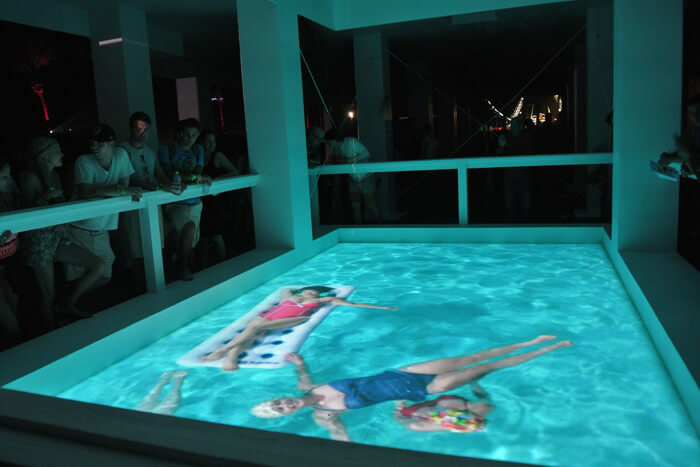 COACHELLA 2013: Swimming pool is just a 'Mirage'
By Nikie Johnson – April 12, 2013
A swimming pool at Coachella? Not quite. It's part of an art installation, "Mirage," that debuted tonight.
Most people entering earlier today probably noticed a big, white, house-looking building. A lot of people were taking shelter under its shade. But when the sun went down, the cool stuff started.
At 40 feet tall, 80 feet wide and 100 feet long, it's designed to look like a Mid-Century Modern Palm Springs mansion, according to Pearl Media Productions, which created it. There are spotlights on several of the outside walls, which people are using to take shadow portraits of themselves.
But the coolest part is a structure that looks like a swimming pool, with video of women floating and swimming around being projected down. It's sorta trippy. And people are having a hard time resisting jumping in, though they're quickly getting shoed away by the staff.
More from a news release: "To bring this immersive 3D projection to life, Pearl Media Productions will use a total of 21 26K HD Barco projectors, eight media servers and utilize a total of 12 zones of HD projection. The result is a breathtaking, full 360-degree ever-changing immersive experience. Pearl Media Productions not only designed the video system, but created more than 330 separate HD files for this installation. They will use 18 gigs of custom created content and more than 70 facets of individual video over the course of the six-day festival."
It ran five hours a night every night of both festival weekends.
For more video coverage Click Here.
About Pearl Media Productions:
Pearl Media Productions creates live, environmental experiences that emotionally connect the brand to consumers. PMP's experiences create lasting consumer impressions through social and earned media, where our content enjoys an extended life cycle. PMP works in 3D and 2D projection and surface mapping, event staging, lighting & sound, as well as special events and trade shows. For more information, visit www.pearlmediaproductions.com
About Pearl Media:
Pearl Media, the U.S. leader in immersive 3D projection experiences, interactive storefronts and large format outdoor campaigns, delivers lasting impressions for major brands. Enabling consumer engagement across multiple touch points, including traditional and social media, Pearl Media extends impact for brands across categories including automotive, airlines, spirits, fashion, consumer packaged goods, retail, gaming and entertainment. Headquartered in Fairfield, NJ, with offices in Los Angeles, Chicago and Miami, Pearl Media drives brand-to-consumer relationships through innovative media creations. For more information, visit pearlmedia.com
More media coverage below: