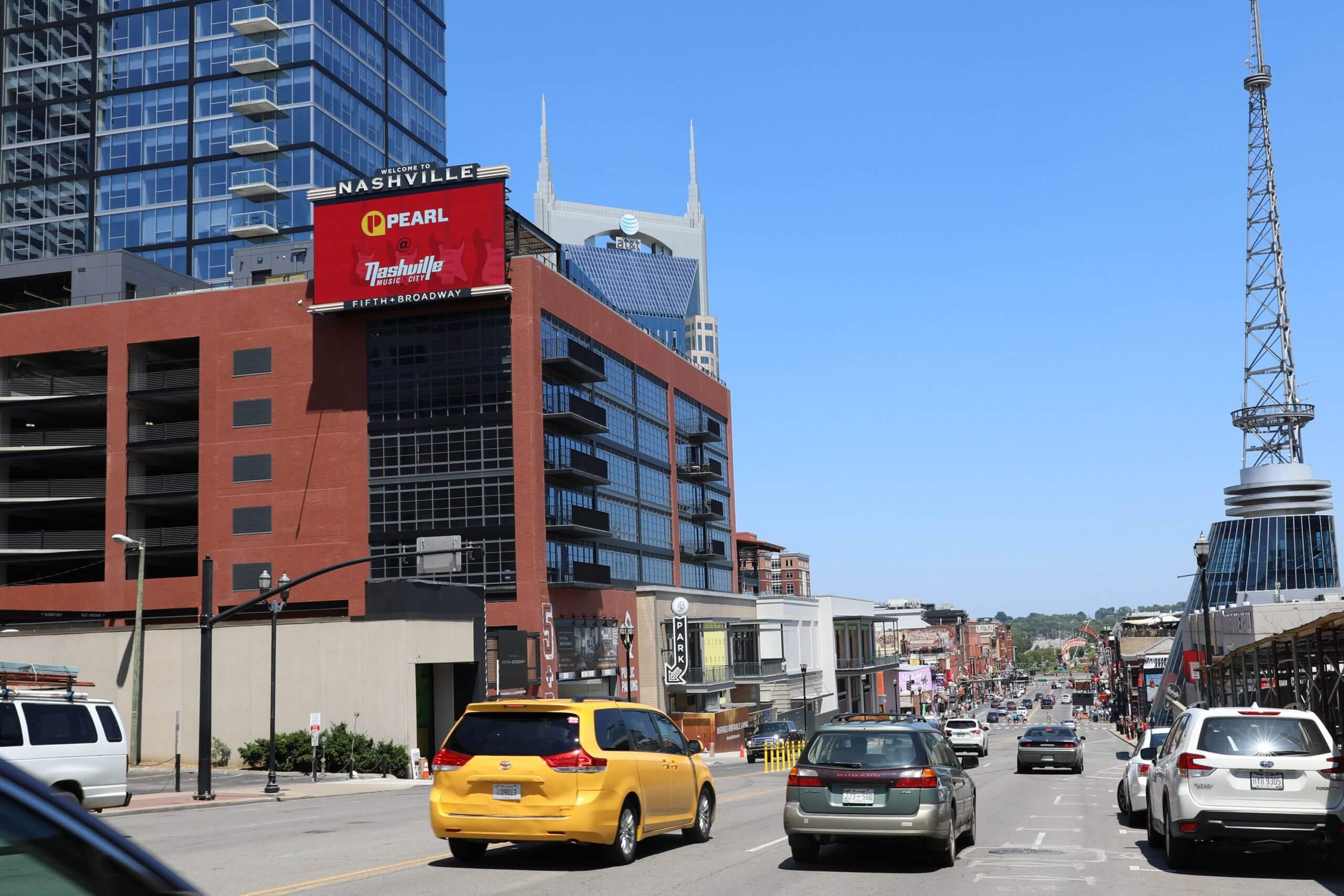 (Montclair, New Jersey) Pearl Media, an award-winning Out-of-Home Advertising and Marketing company, is proud to announce the activation of one of its newest digital and static Out-of-Home advertising properties at the corner of 5th Ave & Broadway, Downtown Nashville's busiest and most iconic intersection.  This new media platform is the first of its kind in the Music City providing local, regional and national advertisers with unprecedented access to reach customers on Lower Broadway.
"We are big fans of Nashville and are extremely excited to offer brands this unparalleled media platform of large format LED digital screens and static wallscapes at one of downtown's busiest intersections," said Josh Cohen, President/CEO of Pearl Media. "Our location at Fifth + Broadway is unlike any other property in Nashville directly located on the famous Broadway, bringing casual and upscale dining, retail, residential and Class-A office space to one of the most vibrant places in all of Tennessee. Pearl Media is absolutely thrilled to be the exclusive media partner offering this premiere advertising opportunity," added Cohen.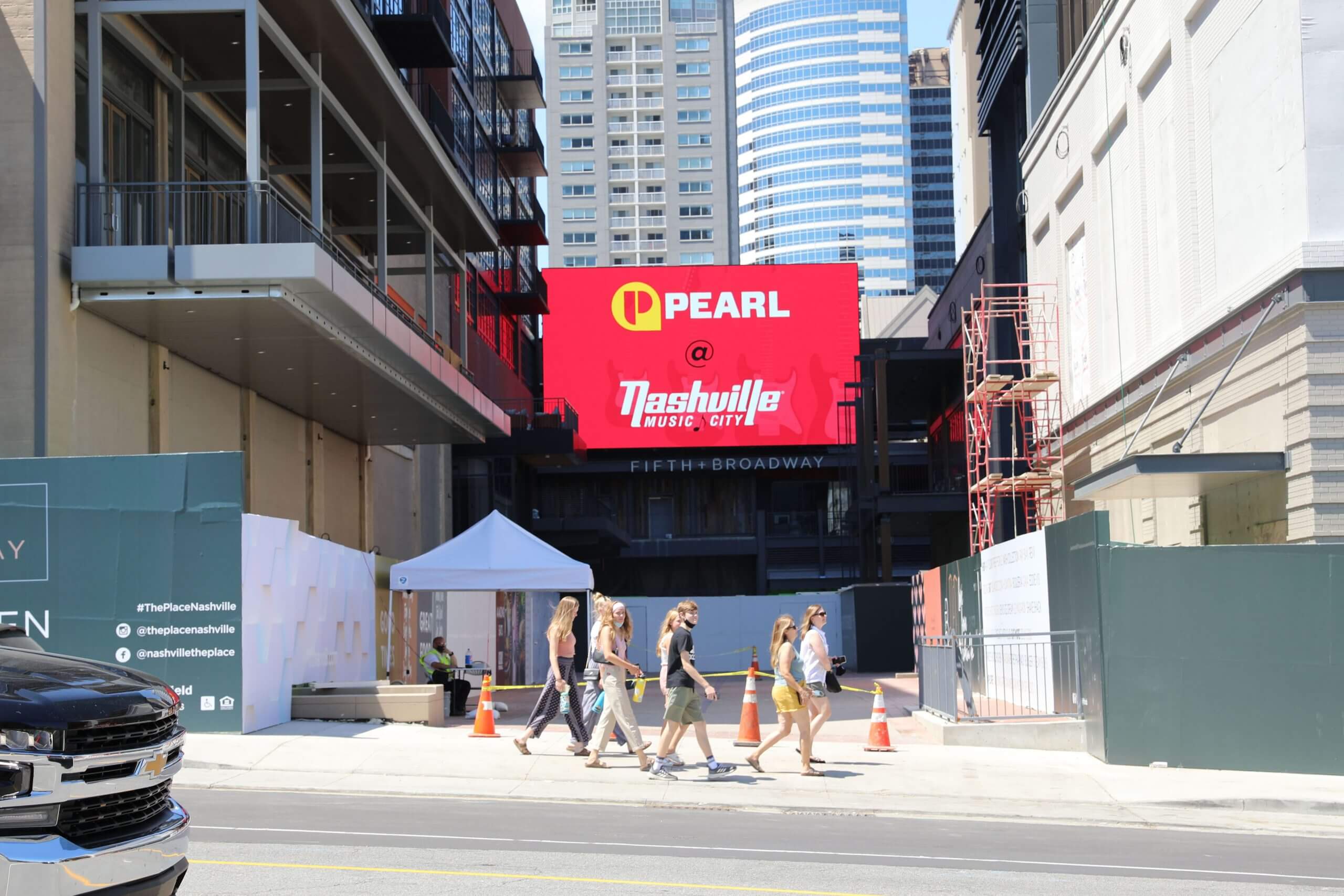 Developed by Brookfield Properties, Fifth + Broadway is comprised of a luxury hi-rise residential tower, Class-A office tower, 200,000 square feet of walkable shops and dining, a live music venue as well as Assembly Food Hall, a rooftop sit down and grab'n go food hall featuring a local curation of Nashville's most eclectic chefs. The project also includes a renovated conference center, world-class entertainment offerings rooted in the thriving artistic culture of Nashville and the National Museum of African American Music (NMAAM). NMAAM is the first of its kind museum dedicated to preserving the legacy and celebrating the central role African Americans played in creating the American soundtrack. The museum's curated collections integrate history and interactive technology to bring the musical heroes of the past into the present.
The media opportunity at Fifth + Broadway consists of large format digital and static wallscapes.  Strategically located throughout the property, the digital signage network of fifteen (15) screens includes:
The "Welcome to Nashville" sign, a 40' x 25' 8MM LED display that is Nashville's newest landmark welcoming everyone entering the Downtown area;
The "L Street Live" sign, a 48' x 20' 8MM LED display that sits atop the walking street that carves through the main corridor of the property. With full motion capability the screen will allow for brand messaging, live feeds, consumer engagement and social media integration;
Two (2) large format 9mm LED screens at the National Museum of African American Music;
Eleven (11) 55-inch LED kiosk faces.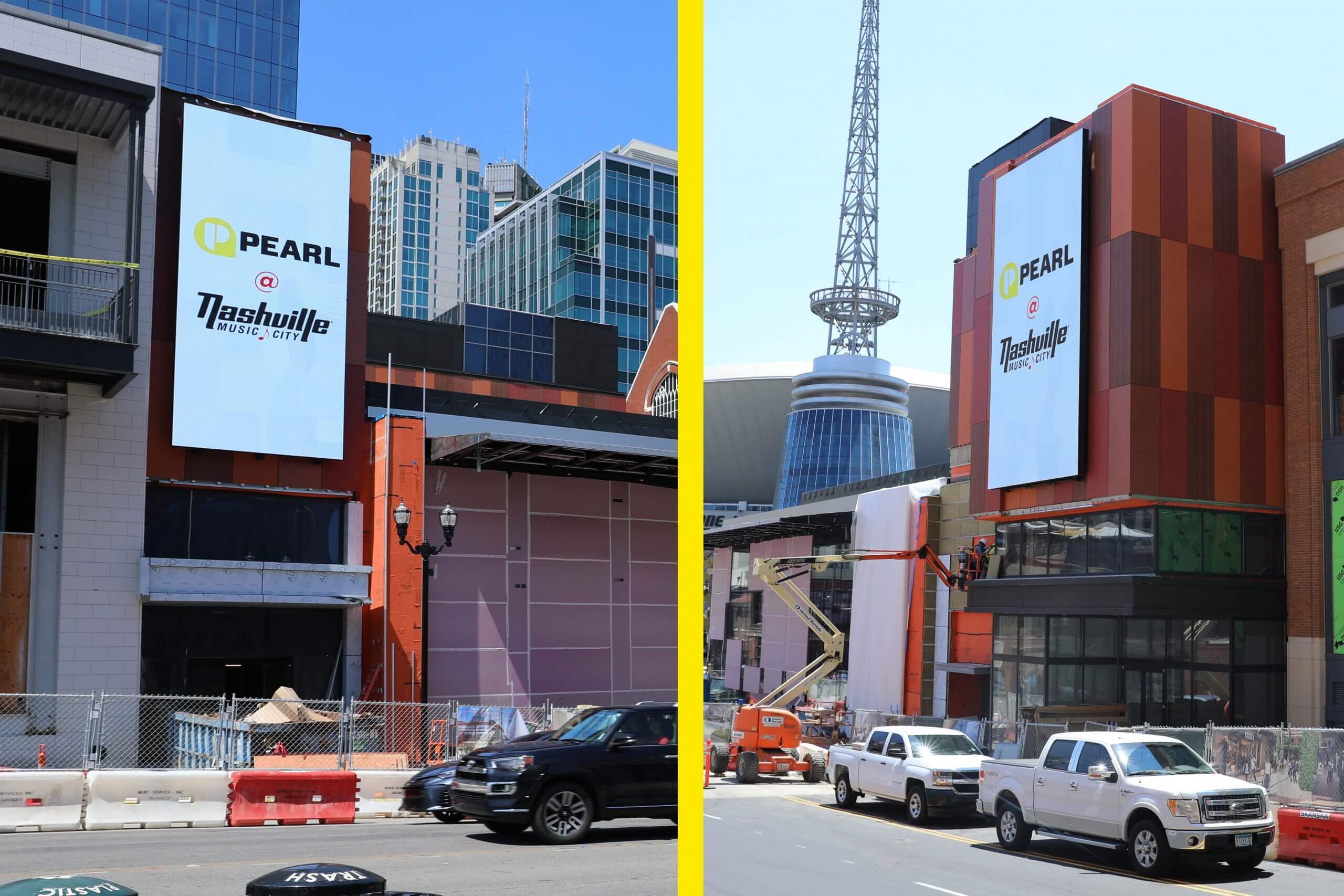 Combined these assets make up the most dominant and transformational digital media platform in Downtown Nashville providing a brilliant, dynamic canvas for top national and international brands to engage with office workers, residents and visitors as they explore the area within and around the property.
"With our Fifth + & Broadway development Brookfield Properties is making a bold statement in support of the growth Downtown Nashville has seen over the past decade," said Tom Miller, General Manager of Fifth + Broadway for Brookfield Properties. "We're glad to play a role in propelling that growth forward and are eager to work with our partners at Pearl Media who have shown the ability to help brands leverage unique media platforms in major downtown corridors similar to what we have developed in Downtown Nashville," added Miller.
Rounding out the advertising opportunities are three (3) large format static wallscapes located in and around Fifth + Broadway.  These wallscape opportunities will turn the development's buildings into Out-of-Home advertising monuments where brands can post their creative campaigns and message to consumers in the area.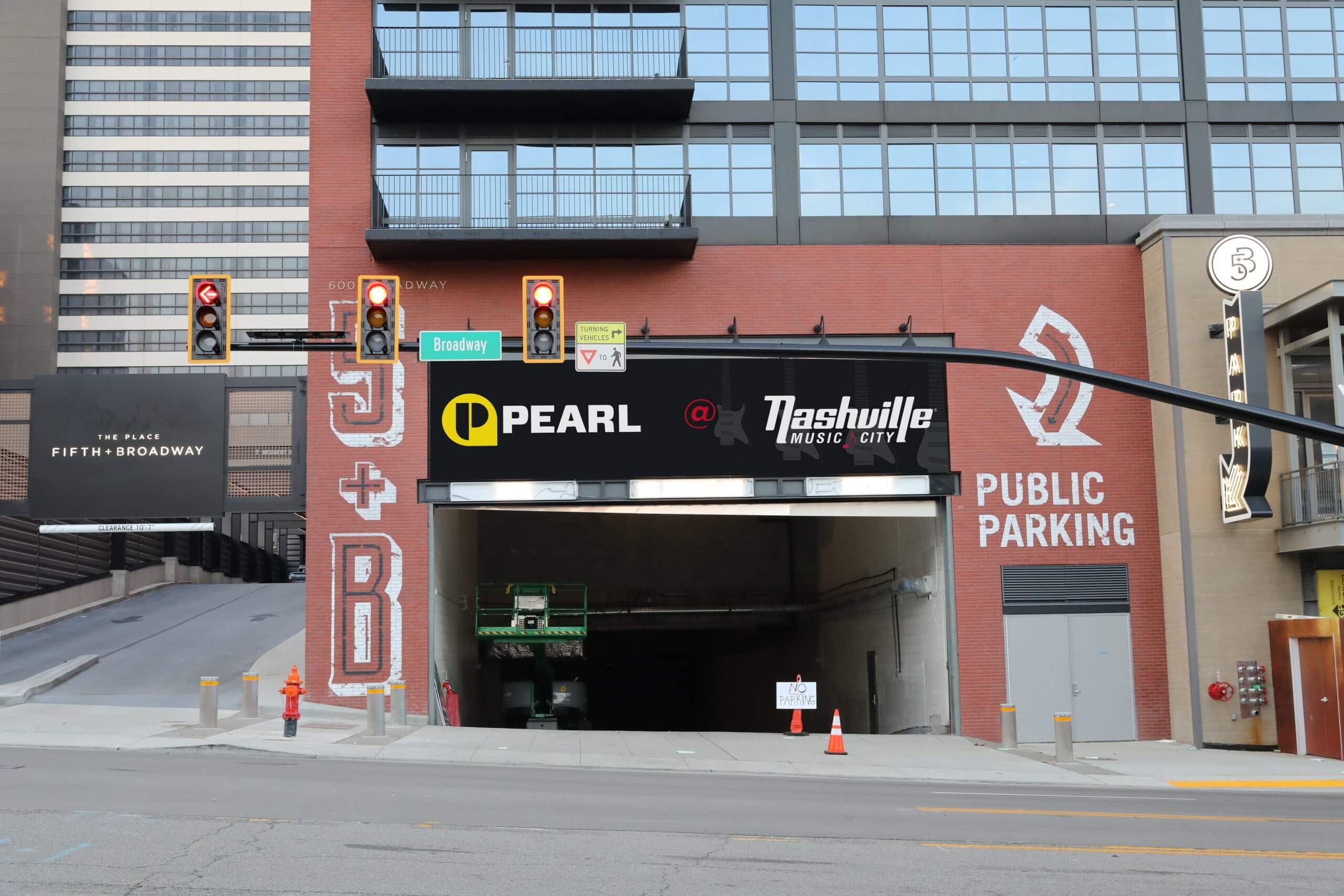 Fifth + Broadway is located at the gateway to the famous Honky-Tonk Highway of bars and restaurants and sits across Broadway from the Bridgestone Arena, home of the NHL Nashville Predators, as well as the historic Ryman Auditorium on 5th Ave.  The Country Music Hall of Fame & Museum, Johnny Cash Museum, Music City Walk of Fame Park and Nashville Music City Center are located within a matter of blocks.
Nashville is home to several major brands including Nissan North America, Bridgestone Americas, AllianceBernstein and iHeartMedia. Job growth in the Music City has been in the top five percent of all metro areas over the past five years.  The city has also been a top ten metro for population growth for six straight years while recording a 14% increase since 2010, bringing the city's population to 1.9 million in 2019.  According to Nielsen the Nashville DMA is now ranked 28th in the country.
For more information on the entire Fifth + Broadway media opportunity, including availability and pricing, contact Pearl Media's head of sales, Anthony Petrillo at apetrillo@perarlmedia.com.
About Pearl Media
Pearl Media develops, manages and sells unique marketing and digital media opportunities. Working with best in class real estate assets, Pearl digitizes urban core mixed use commercial space, transit centers and transit adjacent properties in top markets with premium place-based digital signage networks.  We target and transform premium large format static properties and vacant storefronts into best-in-market out-of-home advertising opportunities.
About Fifth + Broadway
Fifth + Broadway is one of the largest single mixed-use developments in the history of Nashville and the state of Tennessee. The transformative downtown project, which replaces the 6.2 acre Nashville Convention Center site, will deliver 200,000 square feet of strategically important retail and entertainment, the 56,000 square foot national Museum of African American Music, 372,000 square feet of Class-A office space at 501 Commerce Street (future headquarters of Alliance Bernstein), 381 residential units with five guest suites, and more than 2,000 parking spaces.
About the National Museum of African American Music
The National Museum of African American Music, set to open in fall 2020, will be the only museum dedicated solely to preserving African American music traditions and celebrating the central role African Americans have played in shaping American music. Based in Nashville, Tenn., the museum will share the story of the American soundtrack by integrating history and interactive technology to honor Black musical heroes of the past and the present. For more information, please visit www.blackmusicmuseum.org.